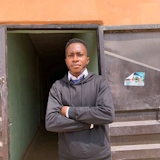 Eric Ejeabukwa
Eric is a prolific health writer, copywriter, social media marketer, and content creator with years of experience in the health writing industry and social media space.
Being an experienced and creative writer, Eric has written and created SEO-friendly content for different brands and health websites in the fitness and health niche. 
Eric also uses his social media presence to create health awareness, comic content, engage his audience, and push his brands.
Aside from reading and writing, Eric also enjoys playing football, posting comic write-ups online, spending time with family, and traveling.
You can connect with him on LinkedIn.