Benefits of Alligator Pepper for Men and Women
Alligator pepper is a plant native to West Africa. This incredible plant has a lot of active compounds that provide numerous health benefits.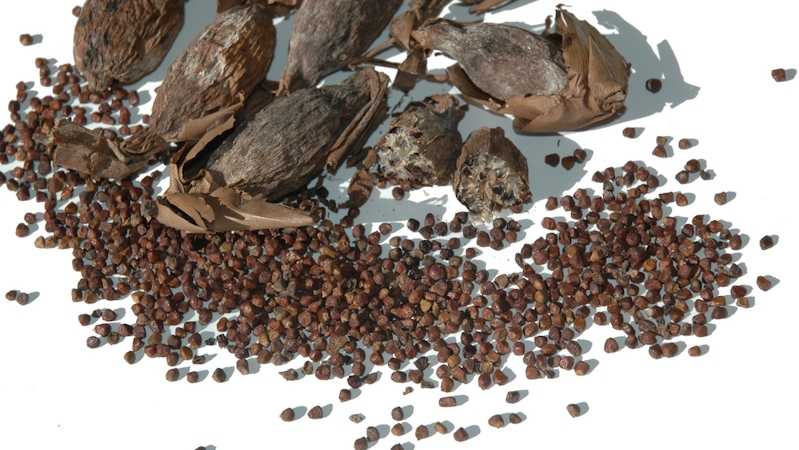 Alligator pepper is a West African plant that has many health uses. 
Possible benefits of alligator pepper for men and women include improving sex drive, reducing symptoms of menopause, and treating erectile dysfunction.
Extracts from alligator pepper can reverse the effects of drug-induced acute kidney injury. But, it is best to consume it in moderation, particularly for women, as it can cause miscarriage when consumed in large quantities.
Alligator pepper is also used for cooking and entertaining guests at traditional ceremonies. 
Aframomum melegueta (grains of paradise) is known by different names across West Africa. In Nigeria, it's popularly called alligator pepper, although indigenous tribes have different names for it.
Alligator pepper holds significant medicinal and cultural importance in Nigeria. Some locals believe it can treat various health conditions, including asthma and depression.
While some of these claims are unfounded and not backed by research, one thing is sure: alligator pepper does have some health benefits.
Here are some of the health benefits of alligator pepper for men and women:
1.
Helps with erectile dysfunction
Research has shown that alligator pepper can help manage erectile dysfunction in people with penises. According to the results of a 2017 study, the extract from the seeds of the fruit inhibits the activities of enzymes associated with erectile dysfunction.
If you experience low sex drive, alligator pepper has the potential to significantly increase your libido.
In an animal study, an aqueous extract of alligator pepper was administered to a group of male rats, while another group received only water. Alligator pepper extract modified the sexual behavior of the first group by increasing sexual arousal.
3.
Decreases menopausal symptoms
Fifty-seven women with menopausal symptoms reported a better quality of life after treatment with a combination of soy isoflavones, a compound found in soybeans, pomegranate skin dry extract, and alligator pepper extract. 
The evidence from this study is not conclusive because it is a pilot study, and the extract from alligator pepper was mixed with other substances. Still, alligator pepper is worth trying if you're experiencing menopausal symptoms.
4.
Combats type 2 diabetes
Alligator pepper contains compounds that inhibit key enzymes linked to type 2 diabetes. The plant has also been shown to improve pancreatic dysfunction and major diabetes-related parameters in type 2 diabetes in an animal study.
Another health benefit of consuming alligator pepper is that it may speed up wound healing. When a 10% extract of alligator pepper was applied topically to the wounds of laboratory rats for 21 days, it facilitated the formation of new tissues.
6.
Acts as a powerful antioxidant
Antioxidants help neutralize free radicals (unstable atoms that can damage the body). The results of several studies indicate that alligator pepper is a potent antioxidant that may prevent oxidative stress, a condition that occurs when there are excess free radicals in the body. 
Is alligator pepper safe during pregnancy? What is the effect?
It is not advisable for pregnant women to consume large quantities of alligator pepper. This is because a study involving pregnant rats suggests it can lead to miscarriage, especially in the first trimester of pregnancy. 
Is alligator pepper good for the kidneys?
There is no scientific evidence to suggest that alligator pepper harms the kidneys. On the contrary, alligator pepper may protect the kidneys from drug-induced injury.  
In a 2021 study, alligator pepper was able to reverse the effects of acute kidney injury caused by chronic administration of diclofenac (a pain relief medication) in laboratory rats. 
Is alligator pepper the same as black pepper?
No, alligator pepper is not the same as black pepper. Alligator pepper has other common names, such as guinea pepper and grains of paradise. The seeds also look black, similar to black pepper, but they are different from black pepper.
Other uses of alligator pepper
In addition to being used as a medicinal plant, alligator pepper has other ceremonial and traditional uses that cut across continents, such as:
Cooking: In West Africa, crushed alligator pepper is used as a spice in a variety of soups and stews. 
Entertainment: During traditional ceremonies, guests are served alligator pepper and garden eggs or kola nuts before any other food or drink. 
Prayers: The Igbos in Southeastern Nigeria use alligator pepper and kola nuts to pray to the gods and ancestors. 
Naming ceremonies: Different tribes in Nigeria use alligator peppers during a child's naming ceremony.