What happens to the body when you take a high dose of Viagra?
Men want to sustain their erections for a long time; women fantasize over such men. This causes men to pop viagra pills to improve their erections without considering the side effects of viagra.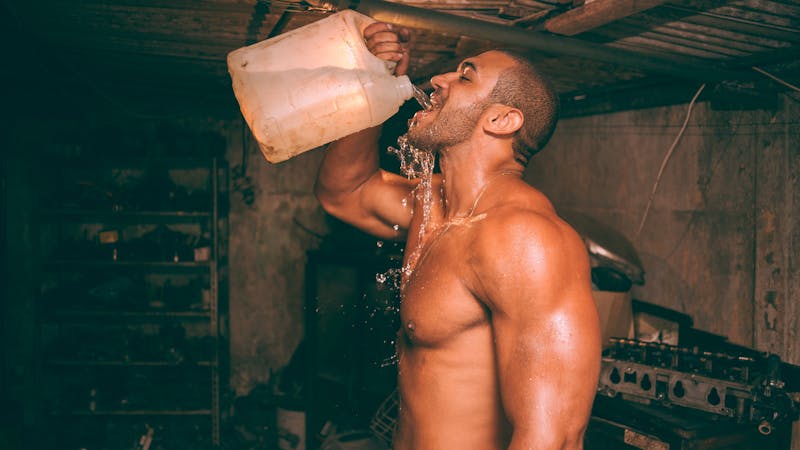 Viagra can cause mild to severe side effects, especially when taken in high doses.
Forbes featured the story of a 31-year-old man (a case published in the medical journal Retinal Cases and Brief Reports) who started having visual disturbances after taking Viagra.
According to the publication, the man bought a liquid form of Viagra (sildenafil citrate) and ingested it without measuring the quantity. After taking the liquid sildenafil, the man started seeing multicolored flashes, and his eyes became increasingly sensitive to light. 
The man continued experiencing other visual symptoms. When he went to an eye clinic, eye tests revealed that some photoreceptors (cone photoreceptors) in his eyes were damaged. This study highlights one of the possible side effects of Viagra - visual problems.
Viagra use is more common in younger people than in older people. According to a study, the fastest-growing group of Viagra users was found to be males between the ages of 18 to 49 years. Also, the study stated that the overall prevalence of Viagra use increased from 0.8% in 1998 to 1.4% in 2002. 
This article will explore what you need to know about Viagra, what happens when you take Viagra, and the side effects of Viagra.
What is Viagra?
Viagra is a prescription medication that has been approved for treating erectile dysfunction (ED). Erectile dysfunction is the inability to get and sustain an erection strong enough for sexual intercourse. The medication has been approved for use in males aged 18 years and above.
The main component of Viagra is a drug called sildenafil. Viagra is a brand name of sildenafil. This medicine (Viagra) belongs to a drug class called phosphodiesterase type 5 (PDE5) inhibitors. 
Viagra works by increasing the flow of blood to the penis. The increased flow of blood to the penis keeps it erect. However, the medication only works when the user is sexually aroused. 
Viagra is in tablet form and is available in three doses- 25 mg, 50 mg, and 100 mg. It can be taken 30 minutes to 4 hours before sex. 
Viagra for treating erectile dysfunction
Photo by Ron Lach on Unsplash
Viagra works for treating erectile dysfunction (ED). Different studies have shown the effectiveness of this medication for treating ED. A study also showed that sildenafil is an effective treatment for erectile dysfunction in men with diabetes.
The rate of improvement in erection among men that took Viagra medication depends on factors like the dosage of Viagra ingested and the cause of the erectile dysfunction. 
What happens when a man takes a high dose of Viagra?
When a man takes Viagra, a series of events occur in the body that generally affects erectile function and sexual activity. When taken in high doses, Viagra can cause serious adverse effects.
 A study published in the International Journal of Impotence Research showed that the maximal dose of Viagra (sildenafil 100 mg) improved erection in men with ED. However, 63% reported adverse effects, while 31% of the participants refused to continue with the treatment due to the medication's side effects.
Viagra works by relaxing the muscles and arteries of the penis. This causes an increase in the flow of blood to the penis. When in a state of arousal, the combination of tissue relaxation and increased blood flow causes the penis to be engorged with blood. This helps a person to achieve and sustain an erection.
After taking Viagra (about 30 minutes to 4 hours before sex), the medication enters the body system and starts working after about an hour. As stated earlier, the medicine only works when you are aroused. Also, it should not be taken more than once a day.
Viagra effects can last between 4 to 8 hours, depending on the individual and the dose taken. This doesn't mean it is safe for you to stay erect for up to 8 hours. An erection that lasts for that long (a condition called priapism) can cause damage to the tissue that helps you get an erection. 
Can men without erectile dysfunction (ED) take Viagra?
Image by Christopher Campbell on Unsplash
Even though Viagra is approved for use only for men with ED, it is alarming that some men without ED take the medicine for recreational purposes. 
Viagra is not recommended for men that do not have ED as its outcomes can be risky.
According to a study, sildenafil does not improve sexual function in men without ED; instead, it reduces the postorgasmic refractory time.
The postorgasmic refractory time is the period after orgasm when someone is not sexually responsive. It is the time between climax and when next the person is ready to be sexually responsive.  
It is not advisable for young, healthy men without ED to take Viagra for improving sexual performance. Doing that is a recreational abuse of the medication. Healthy men who take Viagra may find out that they develop ED when they stop taking it.
Side effects of Viagra
Taking Viagra, especially in a high dose, can cause some side effects. Below, we will list some side effects of taking Viagra. However, this list may not exhaust all possible side effects. 
It would be best to discuss what to expect with Viagra medication as well as possible side effects with your doctor before you start using the medicine.
Mild side effects of Viagra use
Some mild side effects of Viagra include:
Muscle pain
Headache
Indigestion
Flushing
Nausea
Vision changes
Dizziness
Back pain
Rash
Nasal congestion
These mild side effects typically go away after some days or a few weeks. However, if they persist or get more severe, you should see your doctor or pharmacist. The role of your pharmacist includes patient counseling and pharmacovigilance. 
Serious side effects of Viagra use
Viagra may only improve sexual function in men with ED. It may also cause mild to severe side effects when taken in high doses
In rare cases, Viagra can cause serious side effects. These complications require urgent medication and should be treated right away. Some serious side effects of Viagra include:
Allergic reaction
Priapism
Sudden decrease or loss of hearing
Damage to the optic nerve (the nerve connected to the eye)
Cardiovascular problems
Low blood pressure
Keep in mind that some of these Viagra side effects occur more often with higher doses of the medication. This is why it is crucial to take the medicine as prescribed by your doctor.
If you notice side effects with the drug intake, you should discuss them with your doctor. Your doctor might advise that you take a lower dose of the medication.