Best Pre-workout Supplements for Runners — Top Picks
Do you need an extra push to get through those intense workout sessions? A pre-workout supplement may be what you need.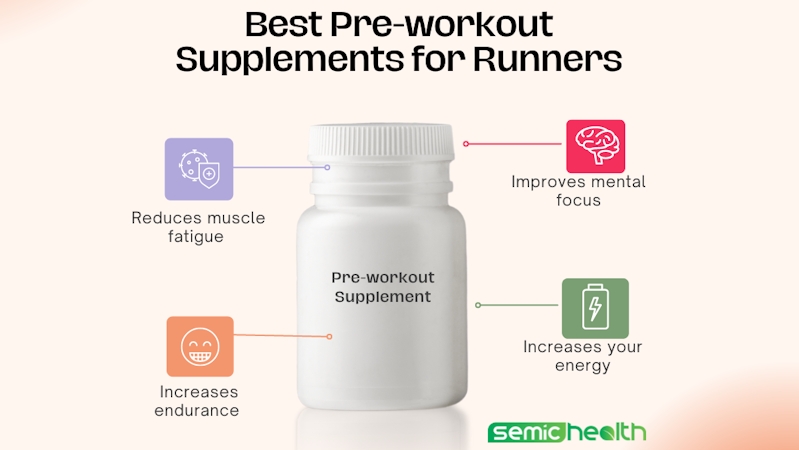 A pre-workout supplement is a multi-ingredient formula taken before exercise to boost energy and performance. Most pre-workout supplements are powdered substances that are mixed with water before consumption. But they can also come in the form of already-made drinks, capsules, chews, and gels. 
Pre-workout supplements designed for runners typically contain caffeine, beta-alanine, creatine, B vitamins, branched-chain amino acids, L-glutamine, L-citrulline, beetroot extract, and electrolytes like sodium and potassium. Each ingredient in a pre-workout serves an important function. 
Picking the right pre-workout supplement can be daunting due to the number of available options. They can contain dozens of ingredients, and come in one or various flavors. Just like eating the right foods before a workout, taking the right supplement before you run or train will help you reach your goals.
If you are a runner or an athlete, this guide will help you choose the best pre-workout supplement that fits your needs. Here are some options you should consider when shopping for a pre-workout supplement. 
Roundup of best pre-workout supplements for runners
Overall best pre-workout supplement for runners: Pre Lab Pro
Best vegan-friendly pre-workout supplement for runners: Elevate by Bulk
Best pre-workout supplements for runners (without creatine): Nitro Surge
Best pre-workout supplement for long-distance runners: LEAN by Transparent Labs
Best pre-workout supplement for endurance athletes: Shifted by Premium
Best pre-workout supplement for runners who need mental focus: Gorilla Mode 
Best pre-workout supplement for elite athletes: Pre-kaged Elite
Best pre-workout supplement for runners who do not like stimulants: ProSupps Dr. Jekyll Signature
Pre Lab Pro is rated the best in our list of best pre-workout supplements for runners. It is a vegan-friendly pre-workout supplement that provides an instant energy boost. It contains 80mg of caffeine per serving and vital amino acids like L-theanine and L-citrulline. 
The product comes in a "natural berry" flavored powdered form and has no synthetic additives, artificial colors, or preservatives. The pink color of the product is a result of the Himalayan pink salt and red beet powder it contains.  
If you buy from the official website, you get one free tub when you choose the four-month supply option (3 tubs+1). Each tub or batch comes with a customized free shaker for mixing the product. 
Pros:
Vegan friendly
Gluten-free
Instant boost
Cons:
Expensive
Available in only one flavor
Elevate pre-workout supplement is manufactured by Bulk for serious athletes who want to improve their performance on the tracks significantly. The supplement contains 200mg of caffeine per serving and other potently-dosed ingredients. This is one of the best pre-workout supplements for runners.
Every batch is tested for banned substances in an accredited laboratory under the Informed Sport Program. Three flavors are available —Orange & Mango, Cherry cola, and Summer Berry. 
Bulk offers a money-back guarantee on Elevate. If you don't like the product, you can return it to any of their specified return addresses within 28 days, provided you haven't used most of it. The company will credit your customer account with Bulk credit worth the product's value. 
Pros:
Premium ingredients
Vegan friendly
Various flavors
Cons:
Nitro Surge is a pre-workout designed to improve strength and performance. It has an anhydrous caffeine content of 180mg per serving. Unlike most pre-workout supplements, it doesn't contain creatine. The creatine is replaced with Betaine Anhydrous. 
According to the company, not everyone likes creatine in their pre-workout supplement, which is why they excluded it. They offer Creatine Monohydrate as a separate product for people who want the specific benefits creatine provides. The manufacturers were intentional about making this product meet the demands of its users. Hence, it's no surprise that it's one of the best pre-workout supplements for runners and other athletes.
The product has 11 flavors buyers can choose from and comes in powdered form that easily dissolves in water. The company offers a hassle-free money-back guarantee if you're unsatisfied with your purchase. 
Pros:
Tons of flavors available
Vegan friendly
Affordable
Cons:
No creatine
It can cause a tingling sensation
4.
LEAN by Transparent Labs
LEAN is a pre-workout for long-distance runners who need endurance and focus. The product contains 180mg of caffeine anhydrous and other ingredients that help target stubborn fat while preventing lean muscle loss. 
The caffeine in LEAN pre-workout is time-released, which makes the effects of the caffeine last longer and prevents caffeine crashes. The prolonged caffeine effect makes it perfect for distance running. 
LEAN is available in 10 great-tasting fruity flavors. It contains no artificial sweeteners, coloring, or preservatives. You'll appreciate this product whether you're an amateur or professional distance runner. 
Pros:
Vegan friendly
Variety of flavors
Increases endurance and mental strength
Cons:
Expensive
No creatine
It can cause a tingling sensation
Shifted Premium Formula is the pre-workout you need when you want to break personal records. It packs a powerful punch with 250mg of caffeine anhydrous, 2,000mg of beta-alanine, and 1,000mg of L-tyrosine per serving. 
Shifted pre-workout supplement is a great option for endurance athletes. It increases stamina, reduces muscle tiredness, and improves concentration. It's an all-natural product that contains no additives. 
The theanine contained in the product counteracts the potential side effects of the high caffeine content. Berry and Tropical are the two flavors available. 
Pros:
Affordable 
Vegan friendly
Keto friendly
Gluten-free
Cons:
Bad taste
Thick texture
It can cause a tingling sensation
Glorillla Mode is one of the best pre-workout supplements for runners. The high concentration of L-citrulline and creatine in Gorilla Mode will help you last longer on the tracks by providing the needed stamina and muscle strength. For people who experience mental fatigue during long training sessions, Gorilla Mode will also help you stay mentally focused. The product contains 175mg of caffeine anhydrous per serving and 750mg of L-tyrosine.
Bioperine increases the breakdown and bioavailability of the ingredients in the pre-workout supplement. The product can be used by both middle and long-distance runners, although long-distance runners may have to double their serving (scoop) to unlock more power.
Gorilla Mode pre-workout formula comes in thirteen different flavors, mostly a combination of various fruits. You can go with the suggested flavor variety packs if you want three tubs of different but related flavors. 
Pros:
Flavor variety
Minimal side effects
Cons:
Expensive
Doesn't mix easily
Pre-kaged Elite contains a high level of stimulants to keep you energized and focused. With 388mg of caffeine, 10,000mg of L-citrulline, and 2,500mg of beta anhydrous, this pre-workout supplement is strictly for elite athletes. 
Pre-kaged Elite doubles as a Vitamin B12 supplement because it contains 1mg. It equally contains other vitamins like Vitamin B3 and Vitamin B6. The creatine content is also quite high at 2,000mg per serving. 
There are three flavors available —Strawberry lemonade, Glacier grape, and Fruit punch. You can save five dollars on each tub by subscribing for a delivery every four weeks and get the product at $53.99 instead of $59.99.      
Pros:
Flavor variety
Acts as a Vitamin B12 and creatine supplement
No after-workout crash
Cons:
Expensive
High caffeine concentration
The serving is too big
8.
ProSupps Dr. Jekyll Signature
If you're sensitive to caffeine or don't like stimulants in your pre-workout supplement, there are options you can choose from. ProSupps Dr. Jekyll Signature is a stim-free supplement for runners. 
Creatine hydrochloride and beta-alanine, both contained in the product, provide an endurance boost. Afromomum Melegueta is also included for intense thermogenic (heat-producing) burn that speeds up metabolism.
The mental focus and energy you can get from ProSupps Dr. Jekyll Signature pre-workout supplement will help you reach your training goals faster. The best part is you won't have to deal with jitters or other common side effects of caffeine.
Pros:
Affordable
Stimulant free
Mixes well
Cons:
A short energy burst
Only one flavor is available
How Can Runners Benefit from Pre-workout Supplements?
Runners can benefit from pre-workouts in many ways. Although the body can do without supplements, the results they help you achieve will take much longer without them. 
Some of the ways pre-workouts can help improve a runner's performance include:
Reduced pain perception
Increased mental focus
Muscle endurance
More energy 
Enhanced blood flow
Tips for Choosing the Best Pre-workout Supplement for Runners
In order to choose the best pre-workout supplement, certain factors should be considered. Everyone is different; what worked for others might not work for you, so it's important to put different factors into consideration when choosing an ideal pre-workout supplement.
The tips below will help you make an informed decision when choosing a pre-workout. 
1.
Transparency
All the ingredients used in a pre-workout supplement should be displayed on the label. It is not advisable to buy products from brands that disguise under special formulas or proprietary blends to hide the content of their pre-workout supplement. 
You have a right to know what goes into your body. So-called proprietary blends can contain harmful or banned substances, which puts you at risk of disqualification if you're a professional athlete. 
2.
Ingredients
People's needs vary; hence every pre-workout contains different ingredients. Some people like stimulants in their pre-workout, while others don't. High doses of stimulants like caffeine can also have unpleasant side effects. 
Consuming ingredients that are not compatible with your body can lead to serious health issues. For example, gluten-intolerant people need to avoid supplements with gluten because gluten triggers a condition known as celiac disease. 
You should only buy pre-workout supplements with ingredients that have been proven to be effective through scientific research. Look out for ingredients like beta-alanine, creatine, L-citrulline, and electrolytes.  
3.
Fitness Goals
Your pre-workout supplement should align with your fitness goals. If you run for fun or barely cover long distances, you don't need pre-workouts with high doses of potent ingredients. 
If you're trying to burn more body fat, you should go with pre-workout supplements that boost metabolism and promote fat burning. On the other hand, if you want to bulk up, a supplement rich in carbs and amino acids will be of more benefit. 
Consult your doctor before consuming any pre-workout, especially if you have health concerns or a medical condition. When using pre-workouts, stick to the recommended serving size to avoid complications.
Your body can become desensitized to the ingredients in a pre-workout supplement if you take it often. It's advised to take pre-workouts as irregularly as possible to maintain its effects. 
If you're under 18, it is best to avoid taking pre-workout supplements. However, if you must, do so under adult supervision and ensure it contains low doses of stimulants and other substances that can negatively impact young people.