Best products for hyperpigmentation for dark-skinned people
Have you been looking for a solution to your hyperpigmentation issues? Then this article is for you.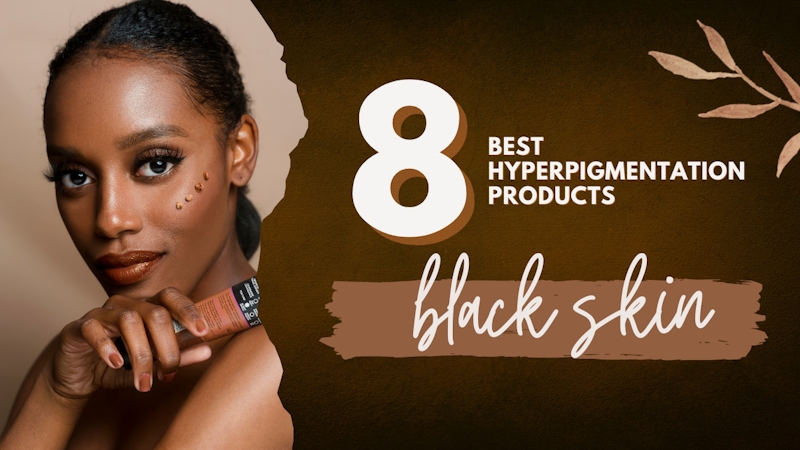 Many people want flawless skin, but common skin conditions like hyperpigmentation (dark spots or patches of skin) can make it difficult to achieve that. The good news is that there is a remedy. With a simple skincare routine that involves the use of products, such as azelaic acid and glycolic acid, your skincare issues may be improved.
Hyperpigmentation is caused by the overproduction of melanin, the pigment that gives skin its color. People with dark skin are more prone to developing hyperpigmentation because they produce more melanin. 
In this article, you'll learn about the best dermatologist-approved products that can help tackle hyperpigmentation in dark-skinned people.
Round-up of the best products for hyperpigmentation in black skin
According to Topicals, their fading serum is excellent for treating hyperpigmentation because it contains brightening ingredients such as tranexamic acid, niacinamide, and azelaic acid. It is also safe for all skin tones and ethnicities.
The product has a pleasant feel and is gentle on delicate skin, so this serum won't cause any problems if you have sensitive skin.  
Pros
Suitable for all skin color
Nice texture
Cons
The packaging is prone to tear and leaks due to the aluminum tube
It has an unpleasant smell
It is pricey
2.
Differin spot-correcting serum
If you're looking for a miracle in a bottle, this Differin Dark Spot-correcting Serum should be at the top of your list. 
With 4% niacinamide, this serum is mild on sensitive skin and reduces hyperpigmentation. It also prevents new spots from forming. The product contains sea 
buckthorn berry oil, an ingredient that has many vitamins and nutrients known to be beneficial to the skin. 
It is paraben-free, non-comedogenic, and dermatologist-approved. The serum can be applied twice daily because of how gentle it is on the skin. 
Pros
It is non-comedogenic
It is paraben-free
It does not contain alcohol
Cons
It has an unpleasant smell
3.
Tula clear it up acne clearing and tone-correcting gel
People with oily skin are prone to developing acne. Therefore, any product aimed at them has to address acne breakouts. For this reason, Tula Clear It Up is an excellent choice for those with oily skin. 
It contains a blend of 2% salicylic acid and azelaic acid that keep acne at bay and niacinamide, which tackles hyperpigmentation, giving you the confidence you need to glow. Hyaluronic acid is also included to hydrate and protect your skin. 
Pros
It is paraben-free
It is sulfate free
Cons
It has a sticky texture.
It is pricey
4.
Hyper skin fade and glow AHA mask
Hyper Skin Fade and Glow AHA Mask is a good hyperpigmentation product that doesn't contain ingredients like parabens which can trigger or worsen acne. 
It contains 5% glycolic acid, 5% mandelic acid, niacinamide, salicylic acid, and sea buckthorn. With all these ingredients available in effective doses, you're likely to get great results if you use the product consistently as directed. 
Pros
It is paraben-free
Doesn't contain sulfate  
No phthalates
Cons 
If there's any skin care product you should never run out of, it's sunscreen. Sunscreen doesn't only protect your skin from the sun's harmful ultraviolet rays; it also prevents sunburn and improves hyperpigmentation. 
Black Girl Sunscreen was created with people of color in mind. It contains some of the best ingredients, including avocado, jojoba oil, cacao, carrot juice, and sunflower oil. It's a must-have for dark-skinned people. 
Pros
It does not leave a white cast
Affordable 
Cons
6.
The ordinary niacinamide 10% + zinc 1%
The Ordinary is a brand that focuses on producing quality skin care products, and this serum is no exception. 
The Ordinary Niacinamide and Zinc Serum contains ingredients beneficial for people struggling with cystic acne (pimples). In addition to fighting cystic acne, it also brightens hyperpigmented spots and patches of skin. 
If you're looking for a product that simultaneously addresses hyperpigmentation and acne problems, you can't go wrong with this one.
Pros
It is affordable
It is paraben-free
Cons
7.
The ordinary glycolic acid 7% toner
This is another superb product from The Ordinary brand. It contains 7% glycolic acid. Glycolic acid has been shown to have many benefits, including exfoliation, tightening skin pores, and lightening dark spots and patches. 
Use The Ordinary Glycolic Acid 7% Toning Solution twice daily for best results. It's also advisable to use it with sunscreen because it makes your skin more sensitive to sunlight. 
A glycolic acid toner should be part of your skincare routine if you want to brighten dull skin and clear up hyperpigmentation. 
Pros
It is fragrance-free
It is free of sulfate and paraben 
It is affordable
Cons
It can cause a stinging effect
It may be a bit drying
Not suitable for sensitive skin type
8.
Urban Skin Rx clear complexion + spot treatment serum
The Urban Skin Clear Complexion Acne and Spot Treatment Serum contains 5% benzoyl peroxide, 5% glycolic acid, and arnica. 
The product improves hyperpigmentation and the skin's overall appearance, making you look younger and more beautiful. 
If you have sensitive or dry skin, it is best to use this product in tiny amounts. However, you can apply the product more generously to your face if you have oily skin.  
Pros
It is sulfate and paraben free
It doesn't have any smell 
Cons
It can cause dryness and irritate sensitive skin
The product is only 30ml 
How fast can skin care products work to fade hyperpigmentation?
Depending on how dark the hyperpigmented spots or areas are, it can take about six months for hyperpigmentation to clear .
You can hasten the process by using sunscreens along with any skincare products you're using to treat hyperpigmentation. Sunscreens can reduce the visibility of acne scars and lighten dark spots while protecting your skin from the sun's ultraviolet rays. 
What ingredients should you look out for when buying hyperpigmentation products?
New products that promise to treat hyperpigmentation are released regularly. While some do work, others are ineffective and a waste of money. 
Here are some active ingredients to look for when shopping for products to address your hyperpigmentation: 
These compounds have brightening properties, and products that contain them will give you the result you're looking for. 
How to choose the best hyperpigmentation product for darker skin tones
Choosing the right hyperpigmentation product for your skin tone and type can be difficult, but it becomes easier with the guidance of a skilled aesthetician or dermatologist. Always seek professional advice when buying skincare products to avoid purchasing products that can either worsen your condition or won't work at all. 
Treating hyperpigmentation takes considerable time and requires consistency in applying the treatment serum or gel. 
Also, don't forget to limit your exposure to sunlight and use sunscreen because hyperpigmented skin is often more sensitive to the harmful effects of ultraviolet radiation.