Best Running Shoes For Ankle Support
Step up your running game with these ankle-support shoes that will keep you moving at any pace and injury-free.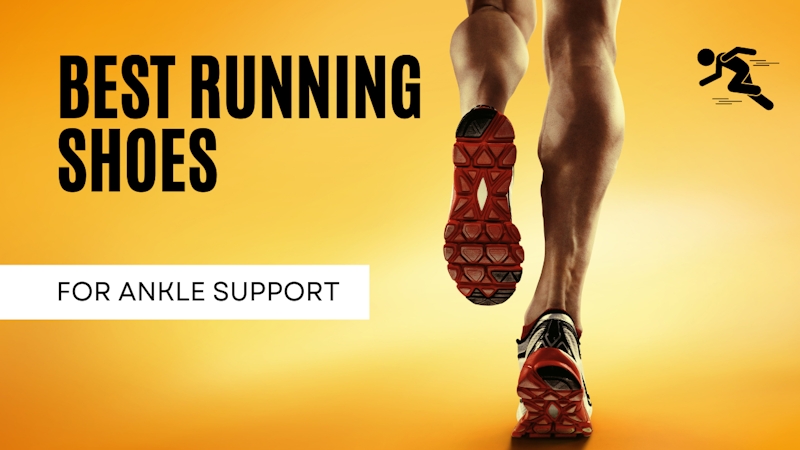 Running is a great cardio exercise, which means it can help maintain a healthy heart and burn unwanted calories. However, it is also a high-impact exercise that can damage the bones and joints, hence the need to take the necessary precautions.  
Pre-workout supplements will help you boost your performance, but you need the right running shoes to keep your legs protected.
Besides adopting proper form and doing a warm-up exercise before running, wearing running shoes with good ankle support can reduce the risk of moderate to severe injuries. This is because they help keep your feet in the proper position as you land and toe-off. 
There are so many running ankle-support shoes on the market, and it can be challenging to find one that actually does what it's supposed to. Fortunately, this guide is here to make your job easier. It recommends some of the best supportive shoes you can get and highlights what you should prioritize when you want to buy one. 
Round up of the best running shoes for ankle support
Best running shoes for ankle support that prevents overpronation: ASICS GEL-Kayano 29
Best running shoes with ankle support for daily training:  Brooks Adrenaline GTS 22
Best versatile running shoes for ankle support: Nike Air Zoom Structure 24
Best versatile trail running shoes for ankle support with bouncy mid-soles: Hoka Speedgoat 5  
Best running shoes for ankle support that provides high comfort and easy stretch: New Balance Fresh Foam X 1080v12
Best light-weight cushioning and abrasion-resistance running shoes for ankle support: ASICS GT 2000 10 
Best trail running shoes with ankle support for all terrain types: Altra Lone Peak 7
Best running shoes for ankle support with exceptional shock absorber: Saucony Guide 16
Since its launch in 1993, the GEL-Kayano has remained a top performer in the running shoe market. Now in its 29th edition, Asics continues to deliver on its promise of developing a supportive and well-cushioned shoe for runners. 
The GEL-Kayano 29 has a firm, dense foam placed on the medial side from the heel to the midfoot, which Asics calls the LITETRUSS™ technology. Its function is to prevent excessive inward rolling of the foot during movement (overpronation).  
FF BLAST™ PLUS foam technology in the midsole provides exceptional impact absorption for softer landings and a responsive rebound. 
The upper is made with an engineered multi-directional mesh that offers excellent foot support and breathability. It hugs the heel tightly and gradually widens towards the forefoot area to ensure that there's enough room in the toe box.    
Pros
Durable
Supports runners who overpronate. 
Breathable mesh upper 
Comfortable cushioning 
Cons
2.
Brooks Adrenaline GTS 22
The Brooks Adrenaline GTS 22 is a daily trainer that can handle anything you throw at it. You're guaranteed a smooth ride with the 100% DNA LOFT midsole cushioning for maximum comfort and energy return. 
The Brooks GuideRails® system in the shoe consists of two firm pieces of foam placed on both sides of the heel that help keep your foot in place. 
Constructed with 3D-fit print mesh, this shoe's upper is durable and irritation-free. It's also more breathable than the GTS 21. 
Pros
Comfortable 
Improved breathability  
Durable 
GuideRails® system 
Cons
Short laces 
Takes a long time to break in  
3.
Nike Air Zoom Structure 24
The Nike Air Zoom Structure 24 is a versatile running shoe for recovery, middle, and long-distance runs. 
The midsole is firm and supportive, with plenty of cushioning for a soft landing. There's also a Zoom Air unit (Nike's explosive cushioning system designed for speed and agility) at the forefront of the shoe to increase responsiveness. 
Nike swapped out the perforated upper of Structure 23 and replaced it with a smoother and more flexible upper in Structure 24. The shoe's upper is very comfortable, and its dynamic fit system allows it to adapt easily to different foot shapes for better support.  
Like most Nike running shoes, the outsole is made to last. It is made of carbon rubber and doesn't show signs of wear even after tens of miles. The midsole also feels better as it's broken in. 
Pros
Airy upper 
Comfortable 
Responsive cushioning 
Great support 
Cons
Lumpy forefoot 
Heavier than the Structure 23
If you're a trail runner searching for a shoe with good traction and ample stability, look no further. The Hoka Speedgoat 5 is what you need. 
The lug sole provides a firm grip on uneven surfaces, and the compression-molded midsole acts as a bouncy, effective barrier between your feet and the harsh terrain underneath. 
It features a symmetrical cushion designed to offer your ankles the necessary support and protection. 
The upper is made with double-layered jacquard engineered mesh that keeps out debris while allowing adequate ventilation. It also has a protective toe rand to keep your toes from getting hurt if you accidentally stumble on roots and rocks. 
Pros
Excellent traction 
Plenty of cushioning 
The upper is breathable and roomy  
Can handle different terrains 
Cons
Fragile upper 
Short tongue
Narrow toebox
5.
New Balance Fresh Foam X 1080v12
The New Balance 1080 series are known for reliability and comfort, and the Fresh Foam X 1080v12 is no exception. It builds on the successes of its predecessors.  
Engineered Hypoknit material designed to provide strategic areas of stretch and support is used in the upper. It is stretchy across the front and rigid in areas where the foot requires support. A heel cup at the back of the upper keeps your foot firmly locked in as you run. 
The shoe is a highly cushioned trainer with the Fresh Foam X midsole. Although the midsole is intended for steady running, it possesses the necessary responsiveness if you need to go faster. The outsole is made of blown rubber to enhance grip and increase rebound. 
Pros
Heel support 
Comfortable upper 
Durable
Well-ventilated  
Cons
Not suitable for people with narrow feet 
Cushioning is a bit stiff 
The ASICS GT 2000 10 is for you if you want something cheaper than a Kayano but still gets the job done. It has a lot of amazing qualities that make it stand out from competitors in the same price range.  
The upper's breathable knit material wraps around the foot like a second skin. To improve rearfoot stability, ASICS placed an internal heel counter between the knit and the padding of the inner heel of the shoe.
Two foams that serve different purposes are used in the midsole —FlyteFoam(R) for lightweight cushioning and FlyteFoam(R) Propel for efficient energy return. The advanced LITETRUSS™ technology you get in the Kayano 29 is also present to enhance medial support and midfoot integrity. 
On the outsole of the shoe,  AHARPLUS™ carbon rubber can be found on the heel area, while the forefoot part has AHAR™ rubber. Both types of rubber are abrasion-resistant and help prolong the product's life.  
Pros
Durable 
Effective pronation control 
Snug upper 
Breathable knit 
Cons
Cushioning is not so great 
Problems with sizing 
The Altra Lone Peak 7 is a trail running shoe that's always ready for an adventure. The MAXTRAC™ outsole with 5mm lugs performs well on all terrain types. 
In the midsole, Altra continues with the ALTRA EGO™ —a firm foam with moderate cushioning used in the past two versions of the Lone Peak. Between the outsole and midsole, a rock guard protects your feet from any pointy rocks you may step on. 
The upper is made with a seamless breathable mesh. Altra ditched stitched overlays used in the Lone Peak 6 in favor of heat-adhered overlays that feel better and increase the shoe's durability. 
The FOOTSHAPE™ design of the upper makes it super spacious, so your feet can sit naturally with a lot of wiggle room. When running, the BALANCED CUSHIONING™ platform provides stability and balance to your joints.  
There are two gaiter traps positioned on the tongue and heel of the shoe for runners who'd like to attach Altra's tail gaiter for extra protection from trail dirt. 
Pros
Comes with gaiter traps 
Wide toe box
Good grip on various terrains
Seamless breathable upper  
Cons
Midsole is not responsive 
It's not a good fit for people with a narrow heel 
Outsole wears out quickly 
The Saucony Guide 16 continues the popular Guide series that many runners have come to know and love. It's a generously padded, supportive running shoe with a breathable mesh upper. 
For the midsole, Saucony used a thick layer of the PWRRUN foam. The foam offers exceptional shock absorption but lacks most modern foam technologies' energy return characteristics. 
On the medial side of the shoe, between the heel and forefoot, is the HOLLOW-TECH stability device. It is a thermoplastic polyurethane (TPU) material that curves upwards in an arc shape to help control overpronation. 
The outsole is made with XT-900 carbon rubber which offers a reasonable level of traction, even on wet surfaces. It's also very reliable and will last the lifetime of the shoe.  
Pros
Consistent and comfortable ride 
Medial support for runners who overpronate 
Lightweight 
The upper is breathable 
Cons
Midsole cushioning feels dead 
Can be uncomfortable if used without socks 
Narrow fit 
Why every runner needs shoes that support the ankles
Running shoes with ankle support provides the necessary cushioning and stability to keep your ankles from twisting or rolling in an abnormal way while you're running, which can lead to a sprained ankle. 
Depending on the grade —mild, moderate, and severe— ankle sprains take anywhere between three to 12 weeks to completely heal. 
Additionally, shoes that offer ankle support can help improve your performance. When your feet and ankles are adequately supported, you'll have more control over your movements and be able to run faster and more efficiently. 
What to look out for when buying ankle support shoes
When shopping for ankle-support running shoes, there are a number of factors you should consider, and they include: 
1.
How it fits
Good fitting is critical in running shoes. Ensure that the shoes you buy are not too tight or loose. Ill-fitting shoes can cause foot pain, ingrown nails, bruises, and heel spurs, among other things.  
For a shoe to be considered a good fit lengthwise, there should be about half an inch of space between your biggest toe and the shoe's material. 
If the length of a shoe fits, but the width doesn't because you have wide feet, buying a bigger size won't solve the problem. A bigger shoe will provide extra width, but it'll equally leave an unwanted space in the heel or toebox, and your feet will swim around as you run. 
Rather than going a size up, try a shoe designed for people with wide feet (a wide-width shoe). The length will be the same, but the forefoot will have more room to accommodate wider feet. 
2.
Comfort of the upper
When it comes to running shoes, comfort is just as important as fit. A comfortable shoe helps reduce foot fatigue so you can focus on your goals and keep going for longer. 
There should be padding in places like the collar, tongue, and heel to provide comfort and reduce irritation and discomfort that can make running unpleasant.
Ventilation is essential as well, so your feet stay dry after runs. Running long distances in poorly ventilated shoes can lead to an accumulation of moisture, which provides a breeding ground for bacteria and fungi that can cause infections to thrive. 
3.
Midsole construction
The midsole construction of a shoe is another thing worth paying close attention to because midsole materials differ depending on the shoe and brand. 
Some midsoles contain bouncy foams that compress and quickly rebound for a more energetic push-off, while others don't and have little to no bounce. It's up to you to decide what you prefer. 
Also, if you're an overpronator, you'll likely require a stability shoe with appropriate midsole support to keep your feet in place as you run. 
Consult your local podiatrist if you're uncertain about the type and level of support you need. A podiatrist is in the best position to provide a professional assessment and recommend a shoe that best suits your needs. 
4.
Traction level
The amount of traction you'll need depends on the activity you plan to engage in. For example, trail runners will need more traction than road runners. 
Trail running shoes typically have lugs on their outsole for enhanced grip on a variety of surfaces. In contrast, most road running shoes do not have these lugs because they are designed to be used on flat, smooth pavement. 
Shoes with deep lugs (5mm+) are best for technical trails. The long lugs are intended to dig into the ground and provide a secure foothold. 
Always replace your running shoes after 300 to 500 miles or six to eight months (whichever comes first). Over time, the cushioning and support in the shoes become less effective. The upper and outsole also start to show significant wear and tear signs. 
See a doctor immediately if you sustain a running injury that looks severe or if an injury doesn't improve after a few days of self-care using R.I.C.E (rest, ice, compression, and elevation) therapy.