Best shoes for people with bunions
If you have bunions, wearing the wrong shoes can ruin a good walk, not to mention the excruciating pains. Read this article to find out what shoes to wear if you have bunions.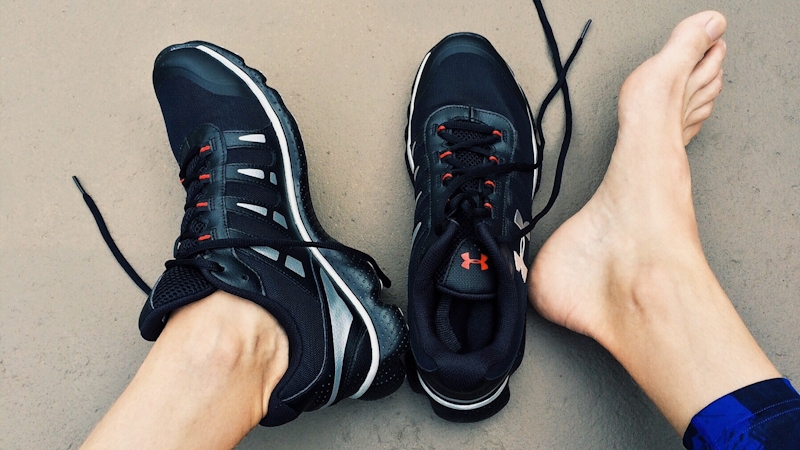 Have you ever worn your shoes and experienced excruciating pains? As you examine your foot, you then notice a big bump on the base of your big toe. If you have experienced this, then you might be familiar with the painful condition called bunions.
Bunions are bony bumps located at the base of the big toe. If you have bunions, you may notice that the skin on your big toe is red and inflamed or your big toes are turning toward your other toes. 
There are several possible causes of bunions. Some include wearing poorly-fitted shoes, high heels or shoes with pointy toes, or standing for a long time. Bunions are also inherited and can run in families.
Wearing the wrong type of shoes can be agonizing if you have bunions. Unfortunately, there is no way to completely get rid of bunions except by using surgery. The other non-surgical approach is wearing shoes that fit properly to prevent bunions from forming. 
Choosing the right shoes is very important if you have bunions. If you choose wrong, you may worsen the pain and allow new bunions to form.
Roundup of the best shoes for people with bunions
Here is a roundup of some of the best shoes to purchase if you have bunions.
Best Flip-flop—Revitalign Seaside Flip-Flop
Best for everyday wear—Propét Women's TravelActiv Mary Jane Flat
Best Arch support-Skechers GO WALK Arch Fit – Iconic
Best running shoes—Asics Gel- Cumulus
Best for Long wear—Allbirds Wool Runners
Best Walking Shoes—Nohea Moku Sneakers
Best Ecofriendly slip-on—Dr. Scholl's Madison Slip-Ons
Best sneakers for women—Best Orthofeet Women's Orthopedic No-Tie Sneaker with Arch Support Francis             
1.
Revitalign Seaside Flip-Flop
The Revitalign Seaside Flip-Flop is one of the best shoes for women with bunions. This footwear has an orthotic-grade footbed that helps align the foot and stabilize the joint. 
This flip-flop has a rubber sole to provide an extra cushioning effect and a softness that makes walking more pleasant. The heels measure approximately an inch, which is an important feature of suitable shoes for bunions. Footwear with low heels minimizes strains on your big toe and thus reduces the risk of developing bunions. 
The upper straps of the revealing seaside flip-flop are made of full-grained leather, which is soft and comfortable. It is also laminated with extra foam to make walking even more comfortable. 
This lightweight footwear is stylish and suitable for bunions—you can even wear it for a beach walk.
2.
Propét Women's TravelActiv Mary Jane Flat
This stylish and superlight slip-on shoe from Propét has to be on this list. The Propét Travelactiv Mary Jane Flat is proof that you don't have to put on unattractive shoes just because you have bunions. The Propét shoe is made of flexible, stretchy material that allows plenty of room for your toes. 
One of the best parts of the Propét slip-on shoe is that it has a mesh lining, which is a breathable material that prevents excess moisture, keeping your feet dry. The podiatrist-designed footbed is another plus of this shoe, as it provides extra cushioning and support. 
In addition, these shoes are available in a variety of colors and sizes 6–12. They offer different width options, allowing you to choose the perfect size that accommodates the needs of your toes.
One downside to the Propét TravelActiv Mary Jane Flat is that the top straps are a little short. 
3.
Skechers GO WALK Arch Fit – Iconic
The Skechers GOWA arch-fit-iconic is a great choice for people with bunions. These shoes are lightweight, machine-washable, and have a rubber sole.
One notable feature of the Skechers GO WALK that customers love is the removable arch fit. Here is what one customer had to say: "Some arch and good toe room. Very comfortable!"
The Skechers GO WALK also has a traction outsole that provides more stability when walking. 
These shoes are available in women's sizes 6–13 and come in different widths to choose from. 
Skechers has stylish designs suitable for both males and females. So choose what style suits you and rock these walking shoes.
4.
Scholl's Madison Slip-Ons
If you are an eco-enthusiast, then you would love Dr. Scholl's Madison Slip-ons crafted with recycled suede. 
These stylish slip-ons have a round-toe design that makes them very suitable for people with bunions. The cushioned footbed provides extra support for your toes, feet, and heels, making walking comfortable. 
Dr. Scholl's Madison slip-ons come in about 32 colorways so you can rock them in any color. The shoes are available in sizes 6-13,  
"I want cute shoes for someone my age that doesn't hurt my bunion," one reviewer writes. "I love these."       
If you have bunions, then these neutral running shoes by Asics will be a good buy. With its lighter and springier midsole, you get an excellent running experience as your foot bounces off the pavement effortlessly.
The Asics Gel-Cumulus also comes with foam underfoot, rearfoot, and underfoot cushioning that helps create a softer landing when running. It also comes with an upper mesh that helps keep your feet cool when running or walking. 
These Shoes come in different colors and sizes and have styles suitable for both men and women. So get ready to rock whenever and wherever. The women's Asics Gel-cumulus is available in sizes 5-12, and the men's in sizes 6-16.     
If you are looking for running shoes that feel soft and cozy, then the Allbirds wool runners might just be what you are looking for. 
One notable feature of the Allbirds wool runner shoes is their thermoregulating property. The Allbirds are made with merino wool that helps keep the foot at room temperature. In addition, the wool is dual-faced, so it doesn't feel hot and itchy. 
These shoes are lightweight and won't press on a bunion. They are also made of machine-washable materials, so your shoes can always look as good as new. 
The Allbird wool runner comes in different styles and colors so that you can pair it with almost any outfit. It is available in women's sizes 5–11 and men's sizes 8–14. 
7.
Orthofeet Women's Orthopedic No-Tie Sneaker with Arch Support Francis
The OrthoFeet women's orthopedic sneakers are specially designed to accommodate different foot conditions like arthritis, bunions, diabetes, hammertoes, and others. 
One of the best features of these shoes that's a big plus for people with bunions is the wide-toe box and stretchable upper that takes the contours of your toes, so the fit is just about perfect.
It is also designed with an ergonomic insole that provides extra comfort and support for your feet. In addition, the Orthofit no-tie sneaker is designed in a lace-up fashion, so all you have to do is adjust the tightness and support of the shoe according to your preference.
The only downside to this shoe is that it is quite pricey, but as one customer wrote, "It is worth every cent."  
If you are looking for sneakers with a laid-back look that you can wear anywhere—or all day, then you might want to consider the Olukai Nohea Moku sneakers.
The Nohea Moku sneakers have a wide width and sturdy arch support, making them suitable for people with bunions. In addition, they are machine washable and very durable.
One notable feature of this sneaker is its 2-in-1 shoe and slide feature. You can fold the heels for a slip-on whenever you want. It also has a non-marking rubber cupsole that is designed to give extra safety to wet surfaces. 
The Nohea Moku sneakers are available in 4 colorways, giving you options to select from, and they're available in men's shoe sizes 7–16. 
"Amazing shoes, love that I can wear them all day... super comfortable," a customer raved.
Can some shoes worsen bunions?
Yes, some shoes can indeed worsen bunions. For example, shoes that are stiff, or those with narrow toe boxes, pointed toes, and high heels (heels taller than two inches), may worsen the bunion. 
How to choose the right shoe for bunions
Here are some important features to look out for when purchasing shoes if you have bunions:
Width: The best shoes for bunions have wide toe boxes to allow enough room for your toes so they don't press against other toes. Avoid shoes with pointed toes, as they can make your bunions worse.
Heels: The highest heels you should wear are two inches. Anything more than that is only going to put more strain on your toes.
Arch support: look out for shoes with adequate support, as they help improve alignment and stability. 
Materials: Choose shoes with stretchable materials to allow more room for your toes. You'd also want to choose shoes made from soft, breathable materials, as they can help reduce friction between the bunion and the shoe. Shoes made of breathable materials also help to keep the feet cool and dry. 
Weight: Lightweight shoes are great for people with bunions, as they tend to be more comfortable and put less weight on the bunions. You can also wear them for a longer time without feeling extreme pain.