All You Need to Know About CBD, Its Uses, Side Effects and Legality
CBD has been touted for a variety of health benefits. But how much do you know about this plant derivative?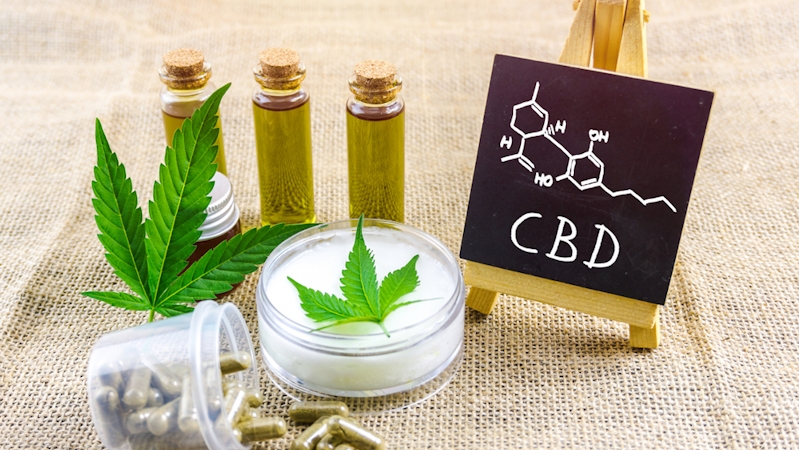 Cannabidiol (CBD) is an active ingredient found in cannabis plants and belongs to the cannabinoid family.
Studies have shown that CBD has numerous potential health benefits, including relieving pain, improving sleep, and improving mental health.
CBD does not cause a high and is not addictive; however, it comes with some risks and potential side effects such as drowsiness, diarrhea, and a negative impact on liver health.
Following the FDA's approval of cannabidiol (CBD) for treating certain forms of epilepsy in 2018, the buzz is yet to die down. It only takes a few clicks to find a "health guru" gushing about its potential benefits. 
From drinks to gummies and even CBD oils, CBD products have taken over the market. Despite its popularity, many people still don't understand what it is, and what it does. Is CBD yet another health scam? This article will dig deep to answer all your questions about CBD, so read on. 
What Is CBD and How Does it Work?
Cannabidiol (CBD), is an active compound in the cannabis plant. Like tetrahydrocannabinol (THC), CBD belongs to the cannabinoid family. Although they have similar chemical formulas, they don't act the same due to differences in their structures. While THC makes you high, CBD doesn't. Also, it's not addictive.
Another active compound in cannabis now garnering the attention of users and scientists is Cannabigerol (CBG). While they are both cannabis plant extracts, CBD and CBG differ in their structures, concentrations, and psychoactive properties.
Interestingly, your body produces compounds similar to these active ingredients, endocannabinoids. Acting through the endocannabinoid system, they regulate several critical body processes, such as immunity and pain management. CBD works through this system too. Its receptors are in your brain and distributed throughout your body. 
CBD oil is marketed for a never-ending list of health problems. Here are some of the most popular potential health benefits of CBD and what research says:
Epilepsy
In 2018, the FDA approved Epidolex, a CBD medication, for treating epilepsy caused by Lennox-Gastaut syndrome, Dravet syndrome, and Tuberous Sclerosis complex.
However, it's not approved for treating other types of epilepsy. Some people try CBD supplements for these conditions, with varying results. A study found that people with epilepsy who used CBD felt better psychologically and had fewer side effects from their medication.  
Pain
Many people use CBD to manage back, neck, and nerve pain. According to a survey in Southern California pain management centers, 59% of participants got pain relief from using CBD.
Researchers believe that it acts by interfering with pain neurotransmitters and reducing inflammation. Much of its activity is due to its relationship with the endocannabinoid system. 
In some countries, drugs combining THC and CBD, such as Sativex, are used to manage chronic pain from multiple sclerosis (MS). But it's yet to gain approval in the US. 
Sleep
About 70 million Americans have trouble sleeping every year. CBD sleep gummies, capsules, and oils may improve your quality of rest. 
Studies show that CBD may help with insomnia and other sleep disorders. Individual experiences with CBD sleep supplements vary, so it still needs more research. 
Heart Health
Inflammation contributes to heart conditions such as cardiovascular disease and hypertension. Acting through the endocannabinoid system, CBD may help manage inflammation linked to heart and vascular diseases.
A study evaluated the effects of 600 mg of CBD oil on nine men and found that it lowered their blood pressure. Even after stress tests, the group that received CBD had a lower blood pressure rise than the control group.
Anxiety and Depression
More people are trying CBD for mental health conditions such as anxiety and depression. One such study evaluated 57 men given CBD before a public speaking event. The group which received 300mg of CBD had the most significant improvement in their anxiety.
Higher doses didn't produce the expected results, as the group that got 600 mg of CBD barely saw any changes. Similarly, the result of administering the 150 mg dose was hardly different from the placebo. This stresses why we need more research into the dosing and effectiveness of CBD for mental health. 
Addiction
Substance abuse is often related to mental health challenges such as depression and anxiety.[12] CBD may contribute to lowering dependence on addictive substances by improving mental status.
Furthermore, CBD could help people kick addictions to the curb. Although each substance has its withdrawal patterns, CBD may help improve the most common symptoms such as aches, nausea, and anxiety.
Cancer
CBD may relieve some of the most grueling cancer symptoms, such as pain, nausea, and appetite loss. Additionally, recent studies found that CBD may slow the growth of some cancers.[14] These promising results are great, but CBD is still a long way from being included in regular cancer treatment plans. 
Neurological Conditions
CBD works through the endocannabinoid system, which has receptors in your brain and throughout your body. Acting on these receptors, CBD could serve as a therapy for neurological conditions such as MS and epilepsy. 
FDA-approved CBD drug, epidiolex, is already used to treat special forms of seizures. In some countries, including the UK, the CBD drug, Sativex, is used to treat muscle spasms in MS. More studies are looking at treating Parkinson's disease with CBD. For now, it may be valuable in managing symptoms of Parkinson's disease, such as insomnia and anxiety. 
In the United States, hemp-derived CBD products contain less than 0.3% THC and are legal at the federal level. Products containing over 0.3% THC are derived from marijuana, making them illegal in many states. You'll have to check what your state legislature says before trying CBD.
Nigerian law criminalizes cannabis and all its extracts, including CBD. However, medically prepared cannabis products don't fall under this rule. This means that if you'd like to get the benefits of CBD oil in Nigeria, you'll have to speak with your healthcare provider. 
Risks and Side Effects of CBD
Most people don't have trouble with CBD oil but some may experience mild side effects with its use. The most common side effects are diarrhea, fatigue, dry mouth, and drowsiness.
That's not to say that CBD use is without risk. 
Studies show that taking high doses of CBD unsupervised could negatively affect liver health. There's also the problem of drug interactions. Many people who try CBD are looking to manage chronic health conditions. The problem is that they're probably already on other medications.
CBD may interact with anti-epileptic, antidepressant, and opioid medications. Alcohol and simple drugs such as acetaminophen may react with CBD as well. So, before you try CBD supplements, consult your doctor. 
Once you've gotten your doctor's approval, the next step is choosing the right product. The majority of CBD products on the market are marketed as supplements. That means they don't have FDA approval and don't undergo the same rigorous testing as approved medications. 
Some products contain far less CBD than they claim. A Leafreport study found that only about 25% of CBD supplements are tested for purity.
So, how do you choose top-quality CBD products? 
Prioritize companies that state clearly where they get the hemp from and the production process. Check for third-party testing certifications to confirm purity and quality. 
Cannabidiol (CBD), an active compound from the cannabis plant, has lots of potential in health care. It doesn't make you high but may improve anxiety, sleep disorders, nausea, and pain. It's only approved for treating certain forms of seizures, as the other claims aren't fully verified. 
If you'd like to try CBD, check your local regulations on its legality. Once that's out of the way, consult your physician. This step is crucial when managing a chronic health condition or taking other medications.