How Ogun State launched the first COVID-19 mobile testing booth in Nigeria
Ogun state, a state in the western part of Nigeria, became the first state to launch a covid-19 testing booth in Nigeria and Africa. Here's the full detail.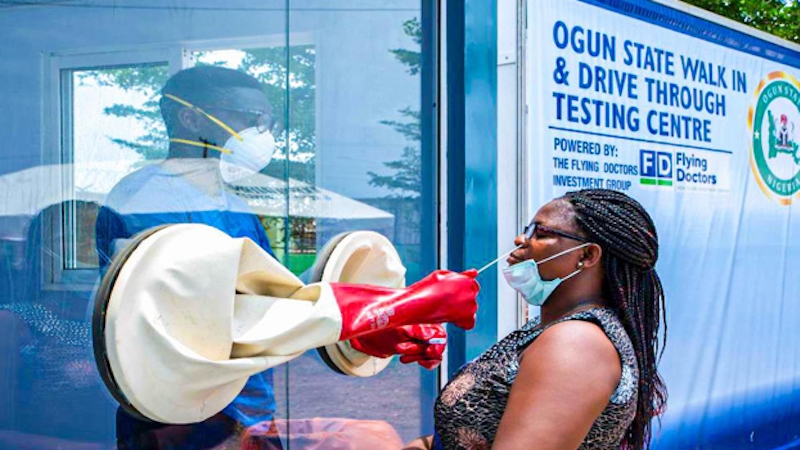 Ogun state became the first state in Nigeria to launch a COVID-19 mobile testing booth in Nigeria at Ota Ogun state on 23rd April 2020.
The COVID-19 testing booth was designed by the renowned Nigerian doctor, Ola Brown. Dr Ola Brown is popular for being the founder of the Flying Doctors Healthcare Investment Group. The company provides air ambulance service and other services like diagnostics, medical equipment supply, retail pharmacy and hospital construction.
As governments of many countries, including Nigeria, faced challenges with providing personal protective equipment (PPE) to citizens, particularly healthcare providers, the mobile testing booth innovation came just at the right time. It reduced the need to spend much on PPEs.
Aside from helping reduce expenses, the mobile testing booth also helped reduce the risk of healthcare providers getting infected with the virus while taking blood samples and testing people.
One of the notable public figures that attended the opening ceremony of the Drive-in Testing Centre was the Ogun State Deputy Governor, Her Excellency Mrs Yetunde Onanuga. The Honourable Commissioner of Health, Dr Tomi Coker, was also present during the event.
According to Onanuga, Ota was chosen as the project location because it is a border between Ogun state and Lagos and is believed to be at a higher risk of coronavirus spread. She applauded Dr Ola Brown and her team for coming up with the innovative idea to develop and build the mobile testing booth project.
The fitted-handgloves were disinfected in between sample collections
The workings of Ogun State's COVID-19 testing mobile booth
The mobile test booth is in the form of a glass box with one entrance behind, a window for ventilation by the side and two holes that can fit two hands in front of the box.
The healthcare workers taking people's samples for testing would have to put their hands through the holes to collect a sample from an individual standing in front of the glass. In this way, the glass provides a protective barrier between the healthcare personnel and the people being tested.
To further reduce the risk of infection, the built-in hand gloves fixed into the holes are disinfected by standby hygienists after the collection of each sample. The samples collected are then immediately transferred for testing
The Walk-in and Drive-through COVID-19 testing booth was indeed the first of its kind in Nigeria and are a laudable innovation by Dr Ola Brown, her team and the Ogun State government.