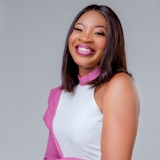 Adanna Obiakor
Pharmacist | Health, Skincare and Beauty Writer
Adanna is a multi-faceted writer with expertise in beauty and health writing. Holding a degree in Pharmacy, she brings a unique perspective to her writing, having published articles in top-ranked blogs. 
Adanna's writing is optimized for search engines, elevating her articles to top-ranked positions and increasing online traffic while maintaining high editorial standards. 
In her free time, Adanna enjoys traveling, saving the world, reading, and creating video content through vlogging and editing.