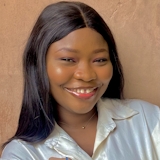 Aramide Adesanya
Aramide Adesanya is a seasoned health, skincare, and beauty writer with digital marketing and content marketing certifications. 
Her expertise in SEO best practices, combined with her vast experience in writing for the fitness and health niche, ensures engaging and informative content that will keep you hooked.
When she is not writing, Aramide can be found relaxing with a good book, travelling to new places, taking a refreshing swim, or walking in nature to recharge her creative batteries.
Get ready to be captivated by Aramide's relatable and professional writing that elevates your understanding of health, skincare, and beauty.