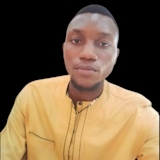 Ibeh Chukwuemeka
Chukwuemeka is a freelance health writer who is well-grounded in health and wellness writing.
With more than two years of experience as a health writer, he's able to communicate medical concepts in a clear and concise manner that everyone can understand.
He combines his writing expertise with relevant on-page SEO techniques to ensure his articles can be easily found by readers, increasing engagement.
In his free time, Chukwuemeka enjoys reading, playing football, and drawing. He also loves listening to music, traveling to new places, and occasionally dabbles into graphic design.