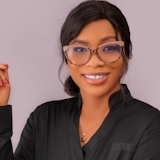 Ifunanya Ukwuoma
Medical communicator | Alternative Health Writer
Ifunanya is an experienced website content writer with over 3 years of experience.
Currently, she loves helping health coaches and practitioners secure a space on the web through high-quality content writing. 
Ifunanya has functioned both as a ghost and a published writer for different health and wellness brands, including Mytherapist.ng, breastfeeding health, HealthDay News, and crystal healing ritual, all for the purpose of education, information, or marketing. 
In her free time, Ifunanya loves to get some sleep, binge-watch lifestyle videos on YouTube, or window shop on e-commerce websites.