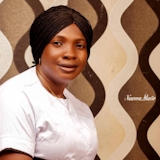 Ijeoma Okeke-Ezulike
Health Writer | Content Creator
Ijeoma is a proficient article writer experienced in writing for blogs and websites. She is an educationist and has worked as a teacher for 9 years.
Aside from health and wellness niches, she frequently writes content and articles in academics, technology, commerce, and self-help.
She helps turns creative ideas into an effective professional piece of writing, enabling brands to achieve their objectives. Hard work to her is the key to her success, and creativity is an art for her.
When she's not working, Ijeoma gives her time to studying the WORD, praying, and spending good time with her family.