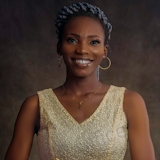 Queendaleen Okeke-izuagwu
Queendaleen Ogechukwu Okeke-izuagwu is a health writer and a certified professional nurse with experience in the health industry.  
Her experience in the health sector gives her so much insight into health-related matters and helps her create valuable health content for her audience. 
Queendaleen is a young, vibrant lady with an eagerness to learn new things and improve herself. She's passionate about growth and development and seizes every opportunity to improve her skills. 
When she's not working, she's either reading a novel or seeing a movie. 
Queen is so in love with nature.