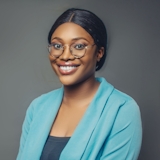 Emmanuella Ogbonna
Pharmacist | Health writer
Emmanuella is a freelance health writer with a background in pharmacy. She has over 3 years of experience writing content for the health and wellness industry.
She has a certificate in content marketing from HubSpot and has taken a number of other courses to improve her writing. She also has SEO knowledge, which helps her write content that ranks on the first page of Google, bringing in traffic and leads for businesses.
She has written over 100 articles covering areas like diseases, fitness, lifestyle, and women's health. She is also a health product review writer.
When she's not working, Emmanuella enjoys diving into a good book, going for walks while listening to her favorite music, watching thought-provoking films, and spending quality time with her loved ones.
You can reach out to her through her website.